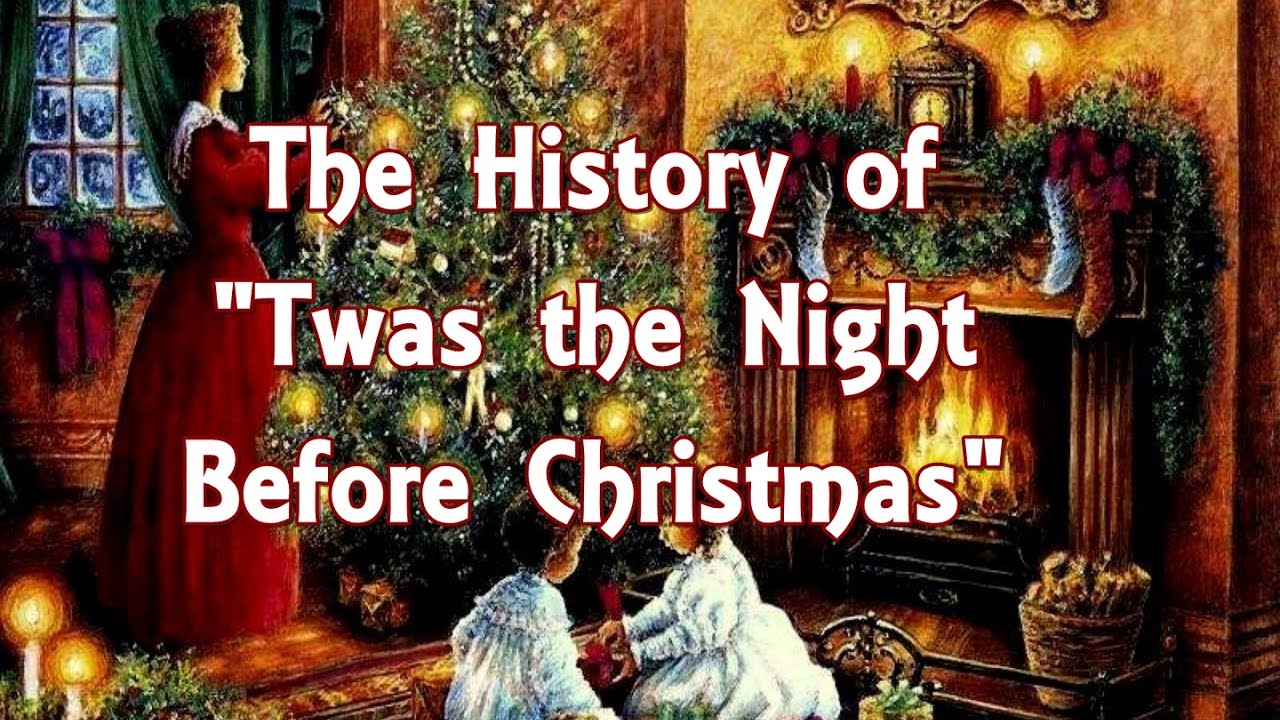 A Visit from St. Nicholas, more commonly known as The Night Before Christmas and 'Twas the Night Before Christmas from its first line, is a poem first published anonymously in 1823 and later attributed to Clement Clarke Moore, who claimed authorship in 1837.
The poem has been called "arguably the best-known verses ever written by an American" and is largely responsible for some of the conceptions of Santa Claus from the mid-nineteenth century to today. It has had a massive effect on the history of Christmas gift-giving. Before the poem gained wide popularity, American ideas had varied considerably about Saint Nicholas and other Christmastide visitors. A Visit from St. Nicholas eventually was set to music and has been recorded by many artists.
It's a pretty simple story: on Christmas Eve, a father is awakened by the sound of St. Nick plopping down the chimney to distribute gifts before riding away. Other holiday favorites, such as How the Grinch Stole Christmas, "Charlie Brown Christmas," and the Rankin/Bass Christmas Specials, quickly spring to mind while attempting to comprehend how readers can appreciate such a simple tale. All of these programs include the holiday, which may explain why we keep watching them at this time of year.
The poem lends itself to various variants thanks to its simple plot. It does not attempt to explain the meaning of Christmas; rather, it allows readers to enjoy the thrilling idea that there is a Santa Claus and the excitement felt on Christmas Eve. The poem's charm lies in the details: According to Nancy Marshall, The Night Before Christmas is a "a masterpiece of genre word-painting," that is visually creative.
The poem helps popularize and cement a distinct Christmas iconography in our contemporary culture, from stockings hung by the chimney to visions of sugarplums, from fresh fallen snow to Santa on a sleigh pulled by eight familiar reindeers, from Santa's rosy cheeks to his belly that shook like a bowl full of jelly.

Nonetheless, it leaves plenty to the reader's imagination, allowing the narrative to be imagined in a variety of creative approaches. Illustrations by self-taught American folk artist "Grandma Moses" (1860-1961) might provide a nostalgic undertone to the Christmas season. Roger Duvoisin (1900-1980), a Swiss-born illustrator and writer, illustrates the poem with a splash of brilliant colors and quirky comedy. Howard Finster, an American folk artist and pastor, has created imagery that is more bizarre and outsider in nature (1916-2001).


Every reworking of Moore's classic poem allows the artists and authors to inject themselves into the story, making each scene both familiar and unfamiliar. Each subsequent adaptation of The Night Before Christmas contributes to the domestication and, without a doubt, Americanization of the gift-bearing saint, changing him from Moore's pipe-smoking, elf-like St. Nick to a more commercialized red-suited, life-size Santa Claus.
But who says Santa's outfit can't be buckskin, green, plaid, or giraffe-print, as in the Native American Night Before Christmas? Moore never stated which color should be used for the outfit. In reality, another prominent New Yorker, Thomas Nast, did not develop a fully standardized picture of Santa Claus in his distinctive red coat and white beard until the late nineteenth century.
While Clement C. Moore may not have expected his poem to be more than a source of pleasure for his family and friends, his legacy has left us with something little but impressive, simple yet inventive, lasting but always open to fresh interpretation.
As early as 1932, a modern version of "Twas the Night Before Christmas" was available. Everyone who likes and looks forward to the poem over the holidays has a favorite rendition.  You can pick up a copy here for $1800!
In the meanwhile, till the next recounting…
"Happy Christmas to all, and to all a good-night."