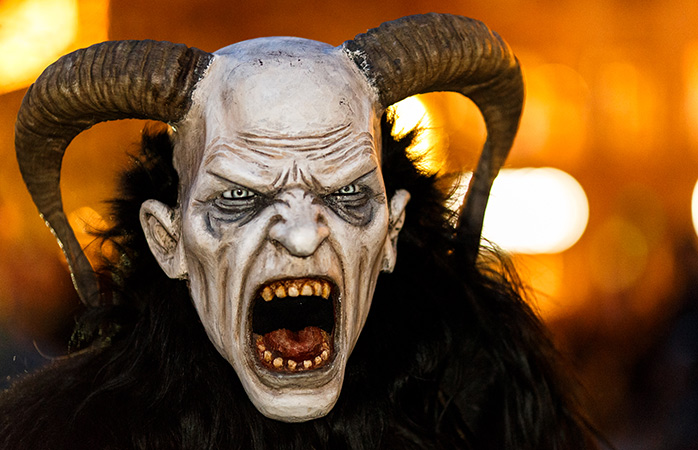 It's the happiest time of the year. Every year, for a few weeks, the world takes on a magical light, people appear happier, and even winter feels comfortable.
Whether you're celebrating a religious holiday, such as Hanukkah or Christmas, or a more secular event, you're bound to have your own set of rituals or customs that make the holiday season so unique. Our greatest Christmas traditions from throughout the world are boisterous, proud, and certain to provide hours of festive pleasure.
Giant Lantern Festival, Philippines
The Giant Lantern Festival (Ligligan Parul Sampernandu) is celebrated each year on the Saturday before Christmas Eve in San Fernando, the Philippines' "Christmas Capital." The event draws visitors from all around the country and the world. The celebration is attended by eleven barangays (villages), and competition is strong as everyone joins in to create the most ornate lantern. Originally, the lanterns were modest half-metre-diameter sculptures constructed from 'papel de hapon' (Japanese origami paper) and illuminated by candle. The lanterns are now built of a variety of materials and may reach a height of six metres. They are lit with electric bulbs.
Gävle Goat, Sweden
A 13-metre-tall Yule Goat has been constructed in the heart of Gävle's Castle Square every Advent since 1966, but this Swedish Christmas custom has unintentionally led to another "tradition" of sorts — people attempting to burn it down. The Goat has been successfully burnt down 29 times since 1966, with the most recent demolition occurring in 2016.
If you want to watch how the Goat does this year when it goes up on December 1st, you may track its journey via a live video feed on the Visit Gävle website.
Krampus, Austria
Krampus, St. Nicholas' wicked companion, is a beast-like demon monster who roams city streets scaring children and punishing the naughty ones. St. Nicholas is supposed to reward good small boys and girls in Austrian custom, while Krampus is said to capture the baddies and take them away in his sack. In the first week of December, young men dress up as the Krampus, scaring youngsters with clattering chains and bells (particularly on the night of St. Nicholas Day).
Kentucky Fried Christmas Dinner, Japan
In Japan, Christmas has never been a huge thing. Christmas, with the exception of a few modest, secular customs such as gift-giving and light displays, remains essentially a novelty in the country. In recent years, however, a new, strange "custom" has arisen – a Christmas Day feast of the Colonel's very own Kentucky Fried Chicken.
The holiday menu will be advertised on the KFC Japan website shortly, and even if you don't speak Japanese, the images seem wonderful, with everything from a Christmas-themed basic bucket to a premium roast-bird feast.
The Yule Lads, Iceland
In Iceland, 13 cunning troll-like figures come out to play in the 13 days running up to Christmas. Over the 13 evenings running up to Christmas, the Yule Lads (jólasveinarnir or jólasveinar in Icelandic) visit youngsters around the country. Each Yuletide night, children leave their nicest shoes by the window, and a different Yule Lad arrives, giving gifts for the good girls and boys and rotting potatoes for the bad. These naughty lads, dressed in traditional Icelandic garb, are rather mischievous, and their names hint at the sort of mischief they prefer to cause:  Stekkjastaur (Sheep-Cote Clod), Giljagaur (Gully Gawk), Stúfur (Stubby), Þvörusleikir (Spoon-Licker), Pottaskefill (Pot-Scraper), Askasleikir (Bowl-Licker), Hurðaskellir (Door-Slammer), Skyrgámur (Skyr-Gobbler), Bjúgnakrækir (Sausage-Swiper), Gluggagægir (Window-Peeper), Gáttaþefur (Doorway-Sniffer), Ketkrókur (Meat-Hook) and Kertasníkir (Candle-Stealer).  Visit Iceland this Christmas and you'll be able to see them all!
Saint Nicholas' Day, Germany, Germany
Nikolaus, not to be confused with Weihnachtsmann (Father Christmas), goes by donkey in the middle of the night on December 6 (Nikolaus Tag) and puts little gifts such as money, chocolate, oranges, and toys in the shoes of good children throughout Germany, notably in the Bavarian area. St. Nicholas also pays visits to youngsters at schools or at home, and in exchange for sweets or a little gift, each child must perform a poem, sing a song, or draw a painting. In a nutshell, he's a terrific man. However, it is not always a game of fun and games. Knecht Ruprecht is frequently brought by St. Nick (Farmhand Rupert).  Knecht Ruprecht, a devil-like creature clothed in gloomy clothing with bells and a filthy beard, holds a rod or a tiny whip in hand to chastise misbehaving youngsters.
Norway
Norway has one of the most unusual Christmas Eve customs, in which individuals hide their brooms. It's a centuries-old ritual that began when people thought witches and evil spirits came out on Christmas Eve searching for brooms to ride on. Many individuals still conceal their brooms in the safest spot in the house to prevent them from being stolen.
Lighting of National Hanukkah Menorah, Washington, D.C. – US
The Jewish holiday of Hanukkah is widely celebrated in the United States, with one of the most spectacular festivities taking place on a national scale. For the eight days and nights of Hanukkah, a massive nine-meter Menorah has been constructed on the White House grounds since 1979. The event in Washington, D.C. includes speakers, music, children's activities, and, of course, the lighting of the Menorah.
The first candle is lighted at the White House at 4 p.m., rain or shine, and an extra candle is lit each night thereafter. The event is free to attend, but tickets must be reserved ahead of time.
Venezuela
Do you enjoy Christmas but believe it might be better with some roller-blading? If you answered yes, plan a trip to Caracas, Venezuela this year. Every
Christmas Eve
, the city's citizens go to church early in the morning – so far, so usual – but they do so on roller skates for reasons known only to them. This one-of-a-kind custom is so popular that roads across the city are closed to automobiles so that people may safely skate to church before returning home for a less-than-traditional Christmas supper of tamales (a wrap made out of cornmeal dough and stuffed with meat, then steamed).
Day of the Little Candles, Colombia
The start of the Christmas season in Colombia is marked by the Day of the Little Candles (Da de las Velitas). People put candles and paper lanterns on their windows, balconies, and front yards to honor the Virgin Mary and the Immaculate Conception. The candle custom has expanded to the point that entire towns and cities across the country are lighted up with spectacular displays. Some of the greatest can be seen in Quimbaya, where residents compete to see who can put up the most stunning display.
Cavalcade of Lights, Toronto
The annual Cavalcade of Lights in snowy, beautiful Toronto marks the formal start of the holiday season. The inaugural Cavalcade was held in 1967 to showcase Toronto's freshly built City Hall and Nathan Phillips Square. More than 300,000 energy-efficient LED lights illuminate the Square and Christmas tree from sundown till 11 p.m. until the New Year. In addition, you will be able to enjoy stunning fireworks displays and outdoor ice skating.