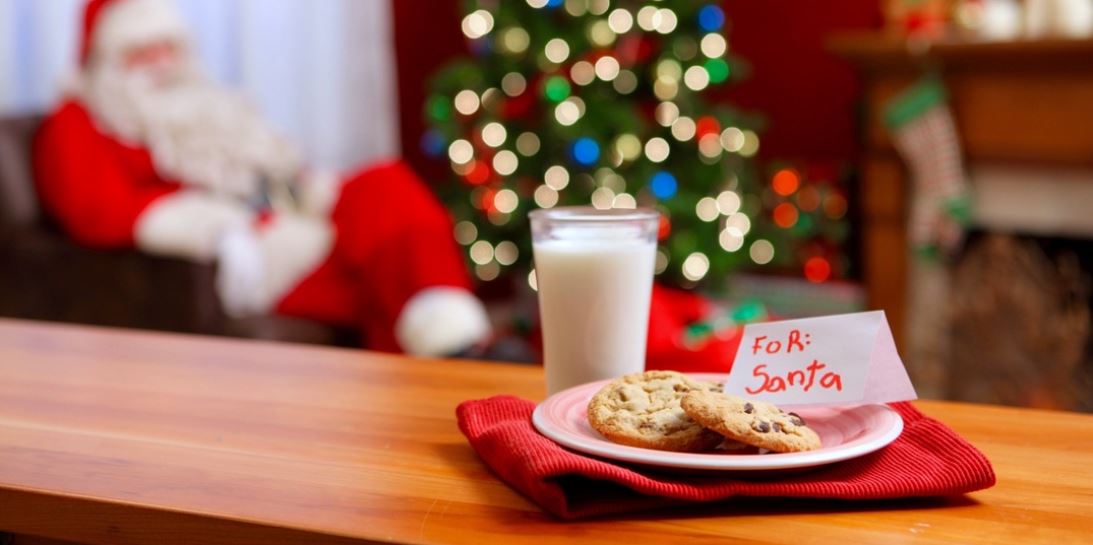 On Christmas Eve, American children have been setting out cookies and milk for Santa Claus for decades. But, how did this Christmas meal tradition begin?
Today, children in the United States have a well-established custom of setting out a plate of cookies (Oreos and traditional chocolate chip are popular options) and a glass of milk for Santa Claus on Christmas Eve. But it hasn't always been like this. According to one explanation, the cookies-and-milk custom evolved from an ancient practice in which households would fill stockings with sweets for Santa and hang them by the chimney, his favored route of entry, as a greeting present. These days, however, those stockings are generally stuffed with snacks and little presents for the family members themselves.
Leaving cookies and milk for Santa—along with possibly a few carrots for his reindeer—became a popular American Christmas custom during the Great Depression in the 1930s. During that period of severe economic difficulty, many parents attempted to teach their children the importance of giving to others and showing appreciation for the presents they were fortunate enough to receive on Christmas. Many youngsters still leave cookies and milk out for Santa, whether out of goodwill or (in less healthy situations) as a bribe to obtain additional gifts from the jolly bearded guy in the red suit.
The origins of this festive culinary custom may be traced all the way back to Norse mythology. Odin, the most prominent Norse deity, was supposed to ride an eight-legged horse named Sleipner, on which he placed a raven on each shoulder. During the Yule season, children would leave food for Sleipner in the hopes that Odin would swing by and give presents in return. Such a custom is still practiced today in nations such as Denmark, Belgium, and the Netherlands, where youngsters think that horses, rather than reindeer, transport Santa's sleigh. On Christmas Eve, they leave carrots and hay (sometimes packed into shoes) for the animals to eat. In exchange, people may expect to get festive goodies such as chocolate coins, cocoa, mandarin oranges, and marzipan.
Various countries have created their own variations of the cookies-and-milk tradition over the years. Children from the United Kingdom and Australia abstain from sherry and mince pies, while Swedish children abstain from rice porridge. When delivering presents in Ireland, Santa may anticipate a pint of Guinness along with his cookies. Children in France leave a glass of wine for Père Noel and fill their shoes with hay, carrots, and other gifts for his donkey, Gui (French for "mistletoe"). In Germany, youngsters forego food in favor of writing handwritten letters to the Christkind, a symbolic embodiment of the Christmas spirit who is in charge of giving gifts on Christmas. Though many German children mail their letters before the holiday (there are six official addresses for letters addressed to the Christkind), others leave them out on Christmas Eve, adorned with glittery glue or sugar crystals. The letters were gathered on Christmas morning, and gifts were put in their place.