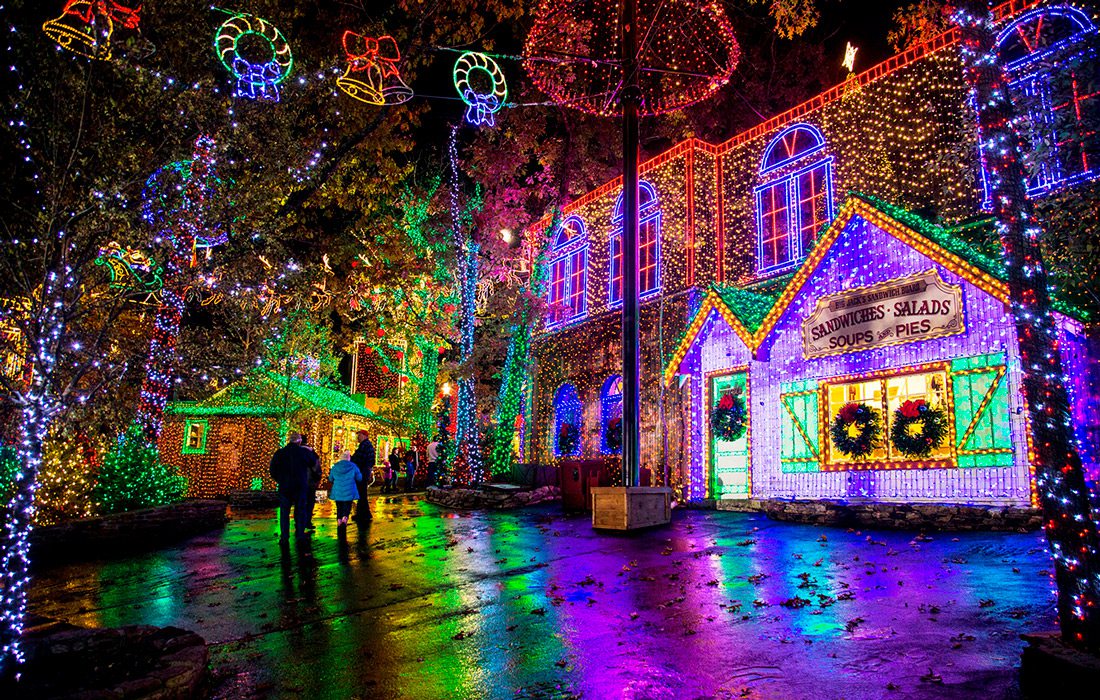 Europe may get the most attention during the holiday season (those Christmas markets are fantastic), but there are plenty of festive cities right here in the United States. And, while we advocate visiting them at any time of year, the cities listed below tend to shine a little brighter (in many cases, very literally) during the holiday season. Whether they're New England villages with huge fairytale vibes or some of the country's biggest and brightest metropolises, these cities are worth making an effort to see. And, let's be honest, you haven't truly experienced the Christmas spirit until you've seen it through the gleaming lens of Las Vegas.
Here's where to go for Christmas in the United States, from Austin to Washington, D.C. Remember, as usual, to research local travel limitations before hitting the road this holiday season—or plan ahead for next year's holiday season.
Alexandria, Virginia
Why we go: Located about 20 minutes south of D.C., Alexandria is a picture-perfect place to spend the holiday season. The Old Town's row houses and centuries-old brick streets look even more charming when adorned with snow and Christmas wreaths, and you can expect a ton of seasonal activities. Look out for lights at the indie boutiques on King Street while you get some last-minute shopping done, then enjoy the Scottish Christmas Walk Weekend and try to spot Waterskiing Santa along the Potomac River.
The one thing to get you in the spirit: Get a taste of the Christmases of yore at nearby Mount Vernon (George Washington's former home), where you can see light installations and listen to carolers from Dec 11-13 and 26-28.
Stay here: Book a stay right on King Street at The Alexandrian Old Town Alexandria, Autograph Collection.
Asheville, North Carolina
Why we go: Asheville is easily one of the country's best places to spend Christmas, offering all the light displays and holiday shopping—not to mention the perfect tucked-away location in the Blue Ridge Mountains—any vacationer could wish for. Some of the city's seasonal offerings include a lit-up wonderland at the North Carolina Arboretum, a national gingerbread house competition at The Omni Grove Park Inn, and the Holly Jolly Christmas Trolley weaving through the downtown area.
The one thing to get you in the spirit: Christmas at Biltmore is just as spectacular as it sounds, with 55 hand-decorated trees, 1,000 live poinsettias, and 7,500 feet of fresh evergreen garland drawing visitors through January 10, 2021.
Stay here: Cozy up in The Foundry, a hotel that opened in 2018 with a James Beard-nominated chef running its in-house restaurant.
Austin
Why we go: Proving you don't need cold temperatures to get in the Christmas spirit, Austin's holiday celebrations put most northern cities to shame. Most notable is the Austin Trail of Lights, an annual festival that includes 2 million lights and 90 holiday trees (2021 marks its 57th anniversary).
The one thing to get you in the spirit: Throwing a few back at one of Austin's decked-out bars, including the Secret Bar at W Austin and Gibson Street Bar.
Stay here: It doesn't get more authentically Texan—or festive—than The Driskill, with its Christmas dinner and decorated tree in the grand lobby.
Bethlehem, Pennsylvania
Why we go: This Christmas, visit the little town of Bethlehem (Christmas City) —in Pennsylvania, that is. The city's German-inspired Christmas City Village and Christkinlmarkt feature rotating displays by artisans, live music, and glass blowing demonstrations. This year, make sure to check out the virtual cooking classes with Santa Claus himself.
The one thing to get you in the spirit: The Winter Light Spectacular at the Lehigh Valley Zoo (about 30 minutes northwest of Bethlehem) features more than a million lights and illuminated scenes throughout the zoo.
Stay here: Historic Hotel Bethlehem gets all decked out for the holidays, with 35,000 lights, giant toy soldiers, and several Christmas trees.
Branson, Missouri
Why we go: Sort of like a family-friendly little sister to Las Vegas, Branson pulls out all the stops every holiday season. The Ozark Mountain town transforms into a winter wonderland with 1,700 decorated Christmas trees in and around town, a Ferris wheel with 144,000 individual lights, and dozens of seasonal concerts and shows along Route 76.
The one thing to get you in the spirit: Head straight to the 1880s-themed amusement park Silver Dollar City for the annual An Old Time Christmas festival. The party lasts until December 30, and includes millions of lights, 1,000 trees (including an eight-story one), outdoor shows, parades, and, of course, rides.
Stay here: Chateau on the Lake is one of the nicest hotels in town, with beautiful lake views and a full-service spa. (Bonus: The resort serves a delicious three-course dinner on Christmas Day.)
Chicago
Why we go: From its European-inspired Christkindlmarket to light shows galore, Chicago knows a thing or two about embracing the Christmas spirit (and the freezing temperatures). Can't-miss activities include visiting the Christmas Tree Farm on Goose Island, ice skating in Millennium Park, and seasonal menus and decorations in pretty much every restaurant in town.
The one thing to get you in the spirit: Be dazzled by 2.5 million LEDs at ZooLights, an annual light festival held at Lincoln Park Zoo.
Stay here: Book into The Gwen, where you can find a pop-up curling rink and cozy "après-ski" cabin on the hotel's outdoor terrace.
Denver, Colorado
Why we go: Unwrap the magic of the holidays in Denver this season with special events and millions of twinkling lights. Enjoy a family outing to the Denver Zoo Lights, or a fun day of shopping and ice skating downtown. Just outside the city at Gaylord Rockies Resort & Convention Center, there is a pop-up experience called "I Love Christmas Movies" that includes films like The Polar Express, A Christmas Story, Elf, and National Lampoon's Christmas Vacation.
The one thing to get you in the spirit: The 20th annual Denver Christkindl Market, a traditional European Holiday Market, will return this winter with a move to Denver's Civic Center Park in a spacious, open-air location. The market will be open daily from Friday, November 20 through Wednesday, December 23.
Stay here: The Crawford Hotel, a boutique property in LoDo's Union Station, boasts Art Deco rooms, the city's most beautiful lobby, and guest perks like free Tesla transportation within a two-mile radius.
Greenville, South Carolina
Why we go: The holidays come to life in Greenville every year, with events like the downtown Festival of Trees competition with more than 30 decorated trees, Holidays at Peace with the Greenville Symphony, and the Christmas Market on Main Street. And with an average December temperature of 55 degrees, enjoying all of these outdoor activities is, well, enjoyable.
The one thing to get you in the spirit: Glide around Ice on Main, an open-air skating rink in the Courtyard Marriott plaza (open November through January).
Stay here: Hotel Domestique is more reminiscent of Tuscany than the American South, making your domestic travel feel just a little more far-flung.
Kennebunkport, Maine
Why we go: If you're wondering where to go for Christmas celebrations unlike anywhere else, look no further. Every December, this tiny New England town bursts with holiday cheer during its annual Christmas Prelude, an 11-day bash that's about as New England as it gets—one of the main attractions is a tree made of lobster traps.  The lobster rolls at The Clam Shack—considered to be some of the best rolls in Maine—will make you forget about gingerbread and sugar plums altogether.
The one thing to get you in the spirit: Santa Claus's arrival to the Christmas Prelude on a lobster boat.
Stay here: We love Cape Arundel Inn & Resort for its oceanside location and restaurant serving up fresh seafood—and, unlike a lot of Maine resorts, it's actually open during the winter months.
Las Vegas
Why we go: If you thought Las Vegas was dazzling before, just wait until you see it decked out for Christmas. Basically, the entire Strip transforms into a winter wonderland full of festive events for the entire family. This year's activities include rooftop ice skating at The Cosmopolitan of Las Vegas, Santa Claus scuba diving in the Shark Reef Aquarium inside Mandalay Bay, a 15-foot sugar castle at ARIA, and a massive holiday display—complete with a 42-foot Christmas tree—at the Bellagio's Conservatory & Botanical Gardens.
The one thing to get you in the spirit: Catch an iconic show at The Fountains of Bellagio to see performances set to "Santa Baby," "Carol of the Bells," and other holiday classics.
Stay here: ARIA Resort & Casino is particularly festive this year, with special holiday menus at six of its in-house restaurants.
Nashville
Why we go: The Music City is all about the—wait for it—music during the holiday season. Now through January 3, enjoy "A Country Christmas" at the Gaylord Opryland, with tons of Christmas shows, plus ice skating, movie marathons, and acres of light displays. Or take the two-mile drive through Jingle Beat, a light show set to remixed versions of classic Christmas carols. And when in doubt, you can always catch a yuletide show at the Grand Ole' Opry.
The one thing to get you in the spirit: As a special treat this year, Nashville Ballet will air a free televised premiere of Nashville's Nutcracker for the first time in company history, on December 18 at 7p.m. CST.
Stay here: The Germantown Inn offers the best hygge outside of Denmark.
New Orleans
Why we go: We aren't surprised that New Orleans leans into the holiday season, but we still get all tingly thinking about Christmas in the city (it might even beat uber-crowded Mardi Gras). NOLA lights up with events like LUNA Fête, where the Central Business District around Lafayette Square fills up with installations and animated graphics from December 11-13 and 18-20. City Park also becomes a wonderland for the entire month with Celebration in the Oaks, a festival with vendors, food and drink stands, and decorations adorning the centuries-old oak trees.
The one thing to get you in the spirit: The annual Christmas Eve lighting of the bonfires along the banks of the Mississippi River is a seasonal tradition that's as authentically "New Orleans" as they come.
Stay here: The exceptional Hotel Maison de Ville, easily one of the best hotels in New Orleans, should be your home base.
New York City
Why we go: There's no shortage of ways to make your New York City Christmas magical, whether it's ice skating at Rockefeller Center, carriage rides through Central Park, or lurking around 34th Street hoping to witness a miracle.
The one thing to get you in the spirit: There's no such thing as going overboard with Christmas decorations in Brooklyn's Dyker Heights neighborhood. Join a walking tour, organized by the area's residents.
Stay here: The Plaza. (If it's good enough for Kevin McCallister…)
Newport Beach, California
Why we go: The Newport Beach Christmas Boat Parade is one of the longest-running holiday festivals in the entire country, celebrating its 112th anniversary this year from December 16-20. (To compare, the Rockefeller Center Christmas Tree Lighting has been running for 88 years.) The "parade" takes place in the harbor of Newport Beach, where yachts, boats, and kayaks show off $50,000 worth of decorations to millions of visitors.
The one thing to get you in the spirit: View the parade from Balboa Island, where the decorated houses threaten to upstage the passing boats.
Stay here: The nautical, all-American feel at Lido House, Autograph Collection fits in perfectly with the theme of the holiday events.
North Pole, Alaska
Why we go: Even though this North Pole is 1,700 miles south of the true North Pole, the quaint Alaskan town is 100-percent saturated with Christmas cheer. Most famous for the Santa Claus House (the self-proclaimed "official" home of St. Nick), North Pole's nominal spirit even extends to its streets: Snowman Lane, Saint Nicholas Drive, Holiday Road, and Santa Claus Lane, which has light poles shaped like candy canes. Just as adorable is the town's post office, which gets flooded with tens of thousands of letters addressed to Santa Claus each year.
The one thing to get you in the spirit: The annual tree-lighting ceremony has plenty of photo-ops with Santa himself.
Stay here: The North Pole Cabins are comfortable and warm log cabin retreats, located just a mile from the Santa Claus House.
Park City, Utah
Why we go: As if the world-class skiing isn't reason enough to visit Park City this winter, the town also happens to be a wonderful place to spend Christmas. The former Olympic city has ample opportunities for skiing, fly fishing, snowmobiling, and dog sledding—with no shortage of resorts to warm up in between runs, too.
The one thing to get you in the spirit: This year, visitors can enjoy Park City's first-ever installation of huge, interactive snow globes located in the historic Main Street district. Each globe is themed around the city's wildlife, silver mining heritage, and Olympic legacy.
Stay here: The 12-room Washington School House is just a hop away from Park City's lit-up Main Street, and we must say its Christmas decorations put a lot of other hotels to shame.
Santa Fe
Why we go: Santa Fe's already beautiful plaza becomes downright magical with the addition of Christmas lights—but the holiday spirit doesn't start and stop there. The city also offers midnight mass at the Cathedral Basilica of St. Francis de Assisi, holiday exhibits at the New Mexico Museum of Art, a spectacular lights display at the Santa Fe Botanical Garden, and seasonal shopping at the Winter Indian Market. Even when Christmas is officially over, you can keep busy at Taos Ski Valley and Ski Santa Fe—both just an easy drive away.
The one thing to get you in the spirit: Santa Fe's annual Canyon Road Farolito Walk, a Christmas Eve event consisting of farolitos (paper bags filled with sand and topped with a votive candle) lining the streets and walls of adobe buildings.
Stay here: The Rosewood Inn of the Anasazi has a tangible warmth to it, with gaslit kiva fireplaces and hand-carved four-poster beds adorning the rooms.
St. Paul, Minnesota
Why we go: New to St. Paul this year is GLOW, a massive holiday festival held at the Minnesota State Fairgrounds through January 3, 2021. Aside from millions of dazzling lights (which you can see from the safety of your car), you can expect a drive-through food court featuring vendors from Minnesota's famous State Fair. The Minnesota Historical Society also offers tons of workshops and tours of Victorian homes decked out for Christmas.
The one thing to get you in the spirit: From December 17 to 19, catch a free light show projected on the front of the Cathedral of Saint Paul. The show will depict the Christmas story with large-scale murals, shown on a continuous loop between 6 and 9 p.m.
Stay here: Book a room at the elegant Saint Paul Hotel, a four-star property with a perfect downtown address on Market Street.
Seattle
Why we go: Aside from the delightful sight of a Christmas tree atop the Space Needle, there are plenty of reasons to visit Seattle over the holidays. Now in its second year, Enchant Christmas is an immersive festival that typically offers 80-foot Christmas trees, an ice skating trail, Santa cameos, and a lot of twinkling lights . There's also a huge celebration just eight miles east of Seattle in the town of Bellevue: Snowflake Lane, a nightly light show with caroling and snow machines ensuring a white Christmas.
The one thing to get you in the spirit: Sheraton Seattle's Annual Gingerbread Village is probably Seattle's most beloved holiday tradition, in which the city's top architecture firms and culinary teams get together to create next-level gingerbread houses. While the event is unable to take place in person this year, the organization is already gearing up for the 2021 season.
Stay here: With its mountain lodge interiors, The Edgewater Hotel is one of the best places to cozy up in the Pacific Northwest.
Seneca Falls, New York
Why we go: It's a Wonderful Life may have been shot on an RKO soundstage in Los Angeles, but the fine folks of Seneca Falls, New York swear that their five-square-mile upstate hamlet is the inspiration for the real Bedford Falls. Each December, they host an array of old-timey activities to prove it. This year's festivities will be held virtually and include special film screenings, holiday lights contests, and museum exhibits.
The one thing to get you in the spirit: The "It's a Wonderful Bonfire" event, which includes caroling and a tree-lighting ceremony.
Stay here: The Gould Hotel has elegant rooms and a restaurant serving hearty, local meals that will warm you from the inside out.
St. Augustine, Florida
Why we go: Christmas in St. Augustine is truly something to behold. The holiday season kicks off this year with the city's annual Christmas Parade, then continues through the end of January with the famous Nights of Lights festival. During Nights of Lights, St. Augustine glows with 3 million tiny white lights, over the Bridge of Lions and through 20 city blocks in the Historic District. Bonus: You can enjoy the whole show without wearing a coat and gloves, because… Florida.
The one thing to get you in the spirit: Climb aboard the Old Town Trolley's Famous Nights of Lights Tour, which departs nightly beginning at 6 p.m.
Stay here: The Collector pairs all the charm of a bed and breakfast with all the amenities of a true luxury hotel.
St. Louis, Missouri
Why we go: It's been 76 years since Judy Garland first graced the world with "Have Yourself a Merry Little Christmas" at the end of Meet Me in St Louis, and the Missouri city has embraced its role as one of America's yuletide capitals ever since. Make sure you hit all the classics, like Wild Lights at the St. Louis Zoo, the poinsettia show at Jewel Box in Forest Park, and ice skating at Steinberg Rink. For the second year running, there's even a new Polar Express-themed train ride at the Union Station development.
The one thing to get you in the spirit: Walk among a million dazzling lights at the Botanical Garden's annual Garden Glow.
Stay here: You can't beat the glittering, Gateway Arch-facing views at the Four Seasons.
Washington, D.C.
Why we go: There are few holiday displays in the nation that compare with Washington, D.C.'s National Christmas tree, but other seasonal perks include private igloos at the Watergate Hotel, the Downtown Holiday Market, and a glorious absence of field trip groups in the Smithsonian museums.
The one thing to get you in the spirit: Make it a priority to amble over to the Ford's Theatre, which puts on an annual run of A Christmas Carol for the holidays. Can't make it this year? You're in luck: The theater will air a radio version of the play on Christmas Day at noon EDT.
Stay here: The Hay-Adams is a historic classic, just steps away from the White House and National Christmas tree.