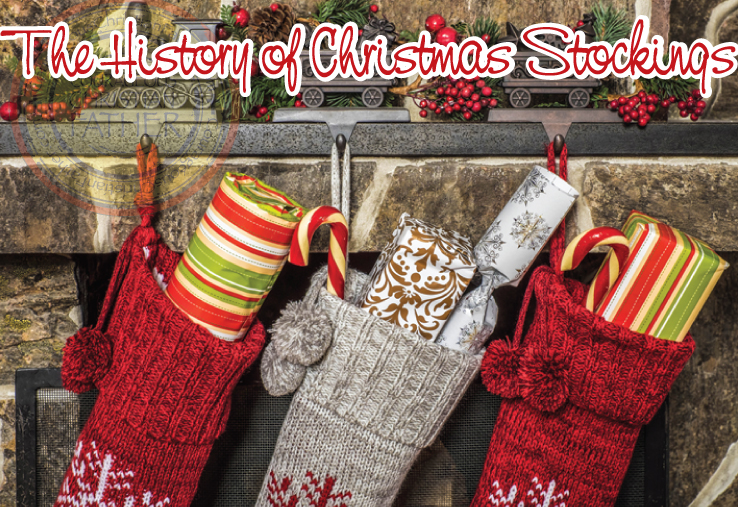 Stockings are hung up in anticipation of Christmas morning. How did a simple stocking become synonymous with Christmas? Our page on Christmas Stockings will help you if you don't. How did Christmas stockings become a tradition? Merry Christmas!
Christmas stockings and the folklore that surrounds them.
Stockings are empty socks or bags that children hang on Christmas Eve in hopes that Santa Claus would fill them with gifts. Stocking stuffers or stocking fillers are typically referred to as tiny toys, candy, fruits, money, and other small presents. Present paper is used to wrap larger gifts, which are then put near the Christmas tree.
A benevolent nobleman named Nicholas, who was born in Patara, Lycia, Asia Minor, around 280 AD, is claimed to have started the tradition of Christmas stockings. His affluent parents perished in an epidemic while he was a child. Dedicated to following the teachings of Jesus Christ, Nicholas became a Christian priest and donated all of his wealth to the poor, the needy, and those who were ill or in pain. Young Bishop of Myra, he committed his life to God's service and was ordained at a young age. As a result of his kindness and charity, Bishop Nicholas became well known across the nation. Nicholas was a genuine celibate; he never married and had no children.
His passion for children, on the other hand, was undeniable, and he regularly presented gifts to the youngsters of his community. Because of this, he became known as Myra's gift-giver. This affluent man toured the country assisting people and providing money and other gifts to those in need. Nicholas, on the other hand, usually presented his presents late at night, in order to keep his identity a mystery. The youngsters of the time were advised to go to bed fast or he would not arrive! In the end, Nicholas was designated as the patron saint of children and sailors (because of his care for sailors) and became known as Saint Nicholas.
Over the years, Saint Nicholas' life and acts have been the subject of countless tales and legends. Popular legend has it that a poor peasant and his wife and three daughters lived peacefully in a modest hamlet in Patara, Saint Nicholas' homeland, in a small hut. A unexpected disease took the wife's life one day, leaving the impoverished widower and his three daughters distraught. As a result of this, the girls were now responsible for all home tasks, while their father carried on with his life as usual.
Because he realized he would never be able to marry them off to suitable men, the impoverished father grew even more unhappy. To find a spouse in those days, a young woman's father had to provide something of value, which was called a "dowry." Because of the lack of a dowry, this impoverished man's daughters were unable to find a suitable match. The powerless father frantically searched for a solution, while her daughters cooked, sewed, and cleaned on their own.
Saint Nicholas, meantime, had learned about the impoverished peasant's daughters. The kind saint chose to aid the father because he was aware of his financial situation. This was something he wanted to accomplish behind closed doors. A bag of gold in hand, he proceeded to the peasant's house and waited for the family to retire before throwing the bag through the cottage's open window.
After doing their laundry for the day, the daughters put their stockings up to dry by the fireplace that night after finishing their washing. They had no idea that their benefactor was waiting for them to fall asleep nearby. Just as they were about to fall asleep, St. Nicholas crept up to the window of the cottage and peered in. At night, his stockings were near to his grasp, illuminated by the moon. He gently tucked his gold bag inside one of the stockings and slipped out as quietly as he had entered.
The next morning, when the father found the bag and opened it, he was in ecstasy. Enough gold was hidden in the stocking to pay for one daughter's dowry. In his eyes, it was a gift from the universe. He wondered who had sent it. So, the father was able to care for his daughter and ensure that she was wed to an honorable man.
Saint Nicholas returned a second time with a bag of gold, which he carefully stuffed into a second stocking so that the second daughter would be taken care of.
After opening the bag, he couldn't believe his eyes when his daughters handed it to him the next morning. A second daughter was able to be married off with this gift as well.
A few weeks had passed and the father was eager to find his mystery benefactor, so he kept an eye out the next night. St. Nicholas returned a third time and this time he was carrying a gold sack on his back. As soon as he saw him, the elderly lord recognized him as a neighbor. In front of the Bishop, he went to his knees, screamed out in joyous thanks, and thanked him from the bottom of his heart. He was able to watch his three daughters get married thanks to the blessings of St. Nicholas, the impoverished father. After that, he had a long and happy life.
As a result, Christmas stockings are believed to have originated in Europe. This same Saint Nicholas may have inspired Santa Claus, with Santa denoting Saint and Claus, Nicholas.
Christmas stockings and shoes are already being hung, and youngsters are excitedly anticipating gifts from Santa Claus. A simple pair of daily socks was first utilized, but as time went on special Christmas stockings were fashioned for this purpose. Many different types and sizes of Christmas stockings may be purchased in gift shops all around the world nowadays. Stockings for the holiday season are also available.
Christmas stockings are also a popular handmade craft in modern society. Individual stockings are made by certain households for each member of the family. So Santa knows which stocking belongs to every family member, many families sew their own Christmas stockings with each member's name on them.
Christmas stockings are sometimes the only gifts a youngster receives from Santa Claus in various countries. Because of the western Christmas tradition, bad-behaving children will not receive a present in their Christmas stocking, but rather a lump of coal.
A present that stimulates the five senses is often placed in the Christmas stocking. The stocking must be put on the fireplace mantel as part of the traditional Christmas celebrations. The stockings may be hung in practically any position in a modern home, as many do not have fireplaces.
It is still a custom for youngsters throughout the world to hang up their Christmas stockings on December 25th. When the stockings go up, kids throughout the world know that the most anticipated time of year is not far behind.