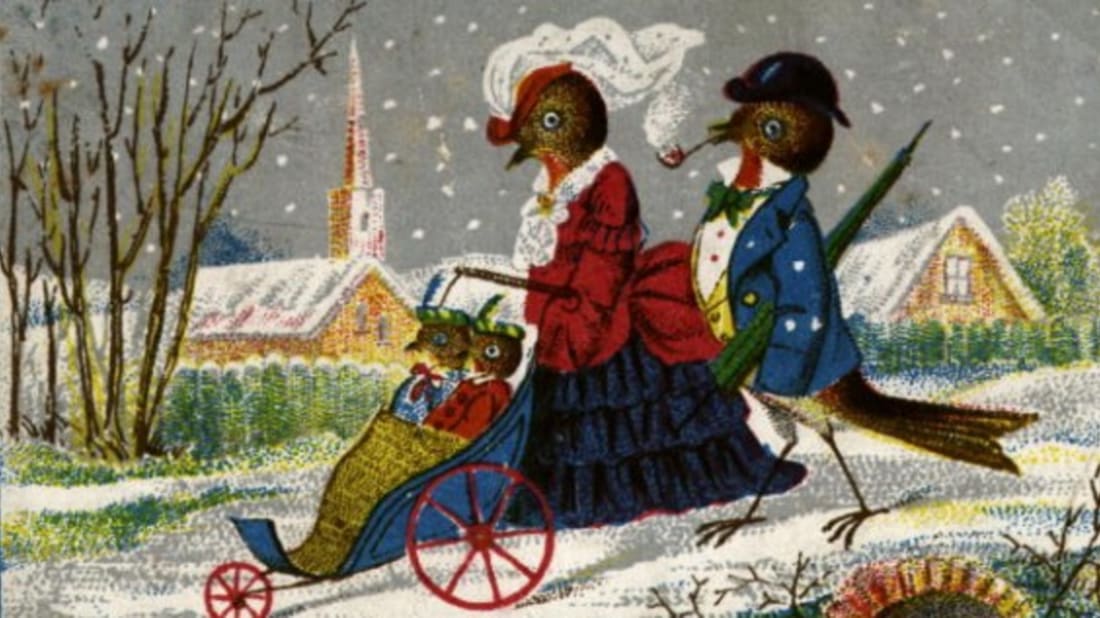 Victorians immediately embraced the new custom when the first Christmas card was delivered in 1843. Here are just a few of the amazingly strange cards we discovered.
Frogs and Insects
Victorians put a dark and twisted spin on their seasonal greetings. Some of the more popular cover models included anthropomorphic frogs and insects
St. Nicholas
An English legend popular during the Victorian era said that St. Nicholas recruited the Devil to help with his deliveries. Together, they determined which children had been naughty or nice. A Christmas postcard with an illustration of Santa Claus attempting to put a frightened child into his sack of presents.
Jovial Froggies
This card reads: "A hearty Christmas greeting. Four jovial froggies a-skating would go; They had asked their mamma, but she'd sternly said "No?" And they all came to grief in a beautiful row. Theres a sweet Christmas moral for one not too slow. Just go!"
Christmas Clown
As the popularity of Christmas cards grew, Victorians demanded more novelty. This 1868 Victorian Christmas card features a clown.
Race to the Finish
The Victorians loved natural history, which might explain why a mouse rides a lobster on this 1880 card, which wishes the recipient "Paix, Joie, Sante, Bonheur," or "Peace, Joy, Health and Happiness." circa 1880.
Snowball Fight
Two women roll Father Christmas through the woods in a giant snowball in this card. Why is Father Christmas in a giant snowball on this 1879 card? There's no telling, but it doesn't look like it's going to end well.
Jack the Giant Killer
"Jack the Giant Killer," a cat version, by 19th-century artist Louis Wain
Good Digestion
"A hearty Christmas to you all! May good digestion wait on appetite."
Christmas card designs were made to serve as conversation pieces as much as they were made to celebrate the season.
Walking Robins
This card, circa 1870, shows "The Robin family" taking a stroll on Christmas morning. Victorians associated robins with Christmas, and often put them on their cards.Some of the Earliest Christmas Cards Were Morbid and Creepy
Victorians expected greater originality as the popularity of Christmas cards rose. Unique and even strange cards with silk fringe, glittering attachments, and mechanical motions were popular by 1885, but the more usual Christmas card designs linked to flora and animals, seasonal vignettes, and landscapes remained popular.
Among the strange were a slew of dark and weird designs. On one holiday greeting, an army of black ants is seen attacking an army of red ants, with the message "The compliments of the season" printed on a small flag. Sullen and brooding children, random lobsters, and Christmas pudding with human components were all common themes in Christmas cards printed in the late 1800s and early 1900s.